At a joint meeting of the Ukrainian government and the European Commission in Kyiv on Thursday, Ukraine signed an agreement with the European Union to join the Single Market Programme and a strategic partnership memorandum in the field of renewable gasses.
"The programme budget is 4.2 billion euros, and one of its main components is the development of business competitiveness. Our participation in this project will contribute to additional support for Ukrainian entrepreneurs, who are the foundation of our economy," Prime Minister of Ukraine Denys Shmyhal commented on Facebook.
Ukraine and the EU also signed a memorandum on strategic partnership in the field of renewable gases, biomethane, hydrogen and other synthetic gases.
The seven-year (2021-2027) Single Market programme is designed to simplify access to the markets of EU countries and promote business and its development, competitiveness, and stability of companies and entire sectors of the economy.
Ursula von der Leyen, President of the European Commission, Josep Borrell, High Representative of the Union for Foreign Affairs and Security Policy, and a team of European commissioners visited Kyiv to meet with the Ukrainian leadership and show support.
On the eve of the EU-Ukraine Summit, the members of the European Parliament approved a resolution supporting Ukraine's membership in the EU and calling on the EU to "work towards the start of the accession negotiations".
As a reminder, the EU-Ukraine Summit will take place on February 3.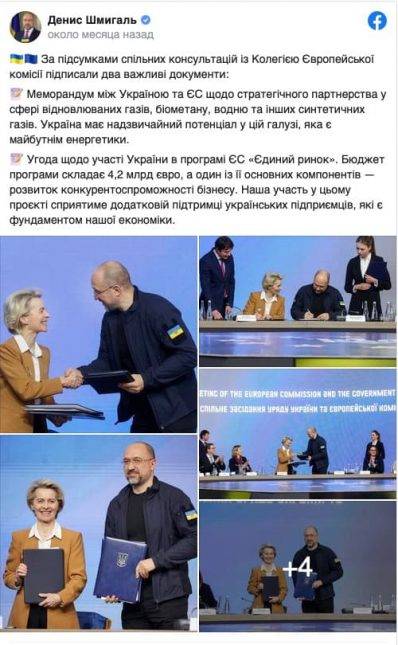 Background info
In December 2022, the EU Council proposed to the European Commission to prepare a step-by-step plan to facilitate Ukraine's access to the single European market.