Russian aggressors have been deliberately, systematically, and cynically destroying Ukraine's critical infrastructure since 2014. The large-scale war unleashed by the Russian Federation, which attacked many regions of Ukraine on February 24, 2022, unfolded not only on the frontline of combat operations. Since October 10, 2022, twelve massive attacks with hundreds of missiles across Ukraine have caused human casualties and destroyed critical infrastructure, depriving millions of people of shelter, light, heat, and water. The Russian aggressor's goal is to plunge Ukraine into cold and darkness, demoralize Ukrainians and force them to surrender. Ukraine and the world have given an unequivocal assessment of these actions – they are war crimes, crimes against humanity, whose perpetrators must be held accountable for their actions.
The EU is a reliable ally of Ukraine on the military, financial, humanitarian, and energy fronts. "We must do everything we can to help Ukraine get through this winter," Brussels called to action that most Europeans supported.
This position was broadcasted by Ambassador Matti Maasikas, Head of the EU Delegation to Ukraine, in Kyiv:
"By attacking Ukraine's energy system and deliberately targeting civilian infrastructure, Russia is trying to turn the cold winter into a weapon in the war against Ukrainians, to bring even more human suffering to the Ukrainian people; to deprive hospitals, emergency services and homes of electricity, heating and water. These are war crimes that cannot go unpunished. Our task is also to minimize and overcome their consequences. I am convinced that this work has no trifles…"
In response to Russia's inhumane actions, the European Union has announced many initiatives designed to support Ukraine and Ukrainians effectively and to overcome the consequences of Russian missile attacks on critical infrastructure as much as possible:
"Generators of Hope" is an initiative to supply power generators
The EU has joined the #LightUpUkraine campaign to raise $10,000,000 to purchase generators for Ukrainian hospitals
Donation of 30 million LED light bulbs for a free exchange of incandescent bulbs for LED bulbs which will provide significant energy savings, in particular during peak hours
The new EU-funded programme is part of the European Union's support for Ukraine's energy front.
On December 13, 2022, President of the European Commission Ursula von der Leyen supported the initiative of President of Ukraine Volodymyr Zelenskyy and announced at the Energy Ramstein that the EU would finance the supply of up to 30 million LED light bulbs for Ukraine. The replacement and operation of 50 million such bulbs, accumulated by the EU and its partners, is estimated to save 1 GW – an annual electricity output of a nuclear power plant.
The Government of Ukraine has approved a programme for the population to exchange incandescent light bulbs for LED ones. The programme will run with the support of the EU as stated in the Resolution "On the Implementation of a Pilot Project to Create Favorable Conditions for Ensuring Efficient Electricity Consumption by the Population" adopted on January 10, 2023 at a meeting of the Cabinet of Ministers of Ukraine. Obsolete light bulbs will be disposed of under international rules and standards. Military-civilian administrations have been appointed responsible for the disposal to be financed by the environmental tax.
To implement the EU and Ukraine Government – Light Bulb Exchange Programme and to encourage Ukrainians to exchange obsolete light bulbs for modern, energy-efficient, and safe ones, the Ministry of Economy, the Ministry of Digital Transformation and Ukrposhta, Ukraine's national post, have initiated a joint communication campaign with the support of the European Union – "Together We Bring Light!".
This campaign aims to motivate Ukrainians to reduce electricity consumption and, as a result, help maintain a balance in the country's energy system. The campaign has broader objectives, in particular, to help Ukrainians develop the habit of using priceless resources, such as energy, more economically.
Goals of the communication campaign "Together We Bring Light!"
To help reduce electricity consumption and unload Ukraine's energy system
To inform the public about the launch of the All-Ukrainian Light Bulb Exchange Program and the impact of EU support on the sustainability of Ukraine's energy sector
To teach Ukrainians to be energy-efficient
To raise awareness of the EU's contribution to strengthening the capacity of power grids and other support, including financial support for energy infrastructure, provision of power generators, transformers, equipment, etc.
At a project launch press briefing on January 30, 2023, journalists and the public were informed about the official launch and implementation mechanism of the EU and the Ukrainian Government's programme for the exchange of incandescent bulbs for LED ones.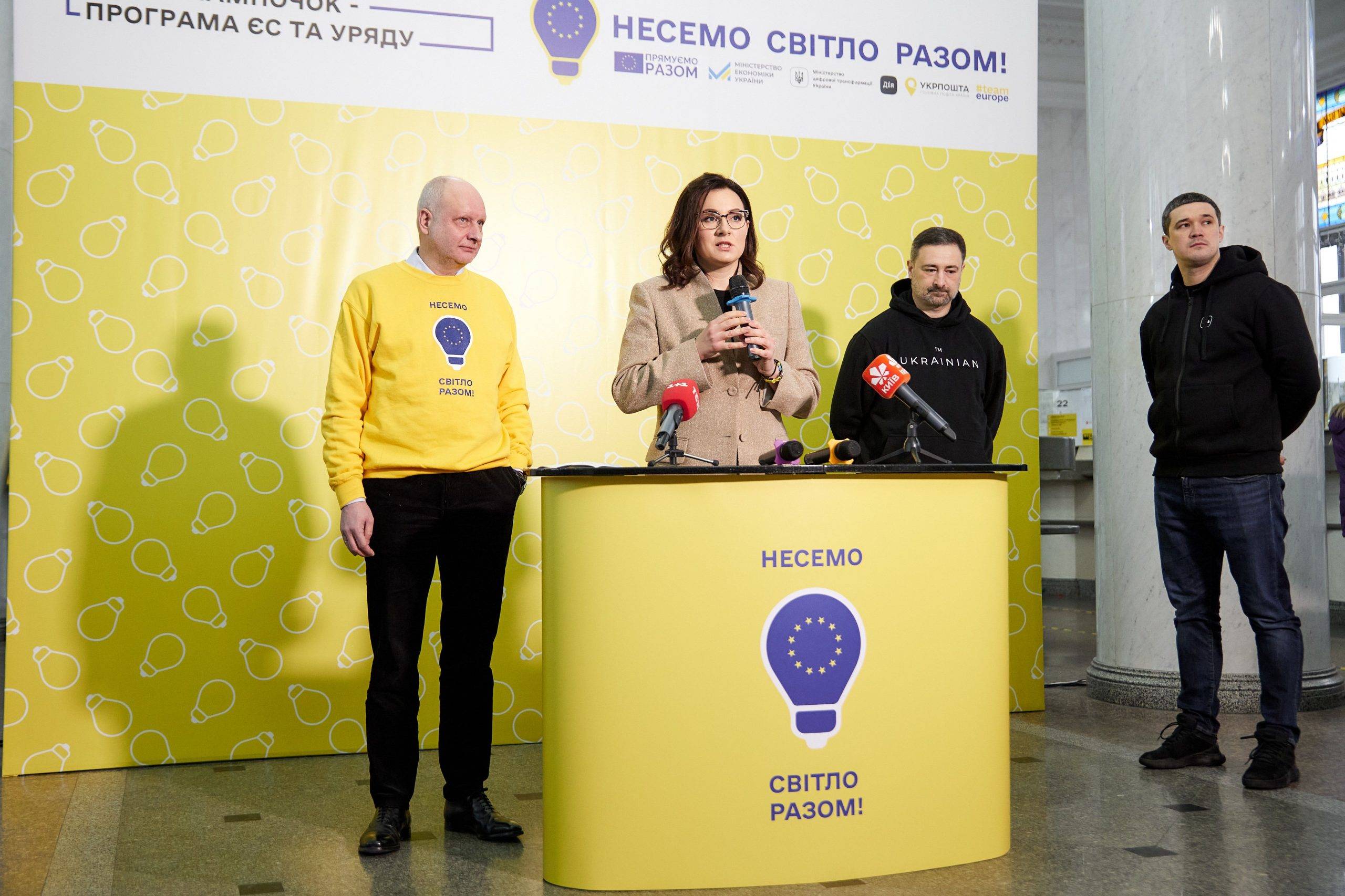 The participants of the press briefing had an opportunity to exchange incandescent bulbs for energy-efficient ones and test the exchange algorithm in real time.
The communication materials available to support the launch and implementation of the national communication campaign include:
outdoor advertising

posters and infographics



video guides, etc.
With the involvement of opinion leaders and cooperation with regional media and digital activities, the communication campaign will have a truly broad scale.
'Every kW of energy saved is precious to counter Russia's energy war', – said European Commission President Ursula von der Leyen after visit to the main post office in Kyiv.
There, she got acquainted with the process of free exchange of old incandescent light bulbs by Ukrainian citizens for energy-saving ones as part of the program ##TogetherWeBringLight.